As a forward thinking and proactive business, Trimble is always looking for solutions that help the industry work more productively and effectively. Bringing together industry experts from all of its corporate divisions, Trimble is able to realise its vision of a seamless and cost-effective future for the construction sector. Here, Trimble MEP and Trimble Buildings envisage how the industry will evolve and change over the course of the next decade and have put together a look at the changes and developments that will keep us on our toes in 2025!
MORE PREFABRICATION
Large prefabricated items that continuously arrive to the site require punctual logistics and planning.
 
A row of containers accommodates not only small fabrication machines producing parts but also movable robotic welding machinery.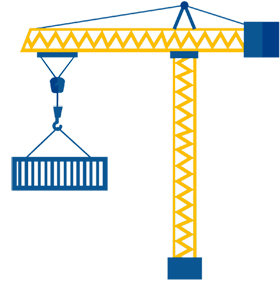 SOFTWARE IS EVERYWHERE
Both the large machines and small tools involve lots of software. Some machines are model-controlled or robotic.
 
Models and mixed reality help comparing the design to the building under construction.
INTERNET OF THINGS & DATA
Internet of Things means that the software-heavy machines and tools are connected and online, and some understand each other.
If a structural problem occurs, it can be filmed using a hardhat camera and shared online with an expert engineer who can help solve the issue.
Data from the scanners and other devices on the site is transferred to the models for monitoring.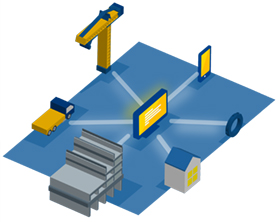 MEASURING & MONITORING
Tape measures have been replaced by laser scanners.
Web cameras monitor progress and safety on the site. Some cameras are attached to drones for aerial photos that help monitoring large sites.
DESIGN OFFICE
The level of automation is growing. Data transfers directly from the design office to fabrication machinery. Engineers and detailers work hard to produce accurate, constructible models for automated fabrication and construction.
Several reference models create together the big picture of the project. Open standards and connecting tools are necessary.
Less planning, scheduling and problem solving take place on the site, more at the office.
Everybody knows who is doing what: Project information is available in a cloud for access with mobile devices.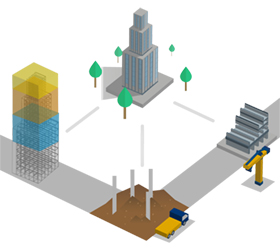 QUALITY
Dimensional accuracy of, for example, elements and beams is high and everything fits together.
There is less waste and more straight lines and right angles.
Construction has become more ecient, faster and cheaper.